Dreamweavers ©
53 cm high x 99 cm wide
Unique
The fleeing figures are the escaping, maniacal Mechanicals - a trio of Bottoms exiting stage right from a Midsummer nightmare.
Dreamweavers ll ©
42 cm high x 117 cm wide
Unique
The zebra-headed runners are pursued in a sort of "Psychosis Safari": the song title from the Eighties Matchbox B-Line Disaster's debut Album "Horse of the Dog".
Ship of Fools ©
78 cm high x 43 cm wide
Unique
The Ship of Fools has been the subject of art at the very least since Hieronymus Bosch, but here is a dream-like Shakespearean take on it.
One fool is rotund and content; the other is bright enough to be concerned. Balancing on a classical column, they are the two joy riders of the Acropolis.
Minimus and Maximus ©
77 cm high x 50 cm wide
Unique
Minimus and Maximus - little and large – an irresistible title for a serious subject of burden: the living have a cross to bear, a monkey on the back – in this case, a donkey or an ass, father and son or two brothers. He isn't heavy, really. The Egyptian stance takes it back to the tomb.
Monsieur Bubo ©
51 cm high x 56 cm wide
Unique.
Bubo Bubo – the owl.
Here, a human form seems to have occupied a shell-like body with an owl mask. He crouches uneasily and looks anxiously through his new eyes. "He crept out of the shadows when I wasn't looking, but he's quite benign and strangely endearing."
Ozymandias ©
60 cm high x 41 cm wide
Unique
In Percy Bysshe Shelley's romantic sonnet there is a pedestal, buried in the sands of time, on which an inscription reads: "My name is Ozymandias, king of kings: Look on my works, ye Mighty, and despair!"
Ozymandias was another name for Rameses the Great and the poem speaks of the decline of all kings on earth, however powerful. "If ever there were to be a King of the Asses, I believe this would be his countenance.
The Louis XIV big-hair comes from another place."
Sheba ©
91 cm high x 73 cm wide
Unique.

The queen or goddess figure is a creature of uncertain gender - a hermaphrodite - depending on which side you are viewing the piece.
The chessmen horses could be captives or captors, but "I believe this is a She-Who-Must-Be-Obeyed."
 
Behind You ©
50cm high x 75cm wide
Unique
Parting of the ways for a pantomime horse. A tale of loss, both droll and doleful.
 
Ballet d'autruche ©
63 cm high x 66 cm wide
Unique
The Ostrich Ballet. Based on the Ballet Suedois – specifically Jean Cocteau's "Les Mariés de la Tour Eiffel" where giant pantomime ostriches perform quadrilles on stage.
In the making of these, a Fijian figure metamorphosed subconsciously with Jean Hugo's costumes emerging in these tribal 'dolls'.
Panjandrum l & ll ©
The Ubiquitous Hare.
In his choice of subject, Diamantopoulo joins a trail of historical and contemporary fascination for the hare – from antiquity to Flanagan and Ryder.
His own renditions are typically mischievous, sardonic and humorous.
Panjandrum l ©
76 cm high x 39 cm wide
Unique
Two cartoon-like weather-vane hares "Pomp" and "Circumstance" take the guise of Eros the Archer on royal chariots.
This is no transportation fit for kings, but in the first image, a facsimile of a simple, yet ornate, Cretan water cart and in the second, a glorified perambulator.
Pomp and Circumstance are being pierced though the heart.
Panjandrum ll ©
84 cm high x 42 cm wide
Unique
A panjandrum is a person who claims to have a great deal of authority.
During World War ll British boffins designed a fearsome weapon of mass destruction - a monstrous rocket- propelled cart.
Too unreliable to use, it was called 'The Great Panjandrum'.
The Three Graces ©
47 cm high x 56 cm wide
Unique
The Graces from Greek mythology was interpreted by Mannerist sculptors in marble: "I couldn't help parodying it in the title. A spontaneous sketch in clay."
 
Sitter IV ©
49 cm high x 17 cm wide
Unique
Sitter III (back view) ©
37 cm high x 18 cm wide
Unique
Sitters I, II & III (group of three) ©
40 cm high x 52 cm wide
Unique.
The Sitters are in silent conversation, something is being said or felt - there are many ways of posturing one's thoughts.
Satyr with Bodhran ©
48 cm high x 33 cm wide
Unique
The goat-headed figure being both satanic and pantheistic has been a stubborn subject in art - Picasso made much of it.
"I wanted an ancient creature with long ears that wasn't a hare or a donkey and an instrument that played the sound of time."
Harpy ©
54 cm high x 43 cm wide
Unique.
This piece was immediate in that it emerged without forethought in one, brief session.
Bird-headed mythological creatures are meant to be menacing, but somehow the seated Harpy seems benign and Peter-Pan like. And the horse is docile and unperturbed.
Seirenes ©
36cm high x 36cm wide
Unique
The mythological Greek bird women. Several trips to Venice have also left their mark – a city where theatre and life are one and plague masks still abound.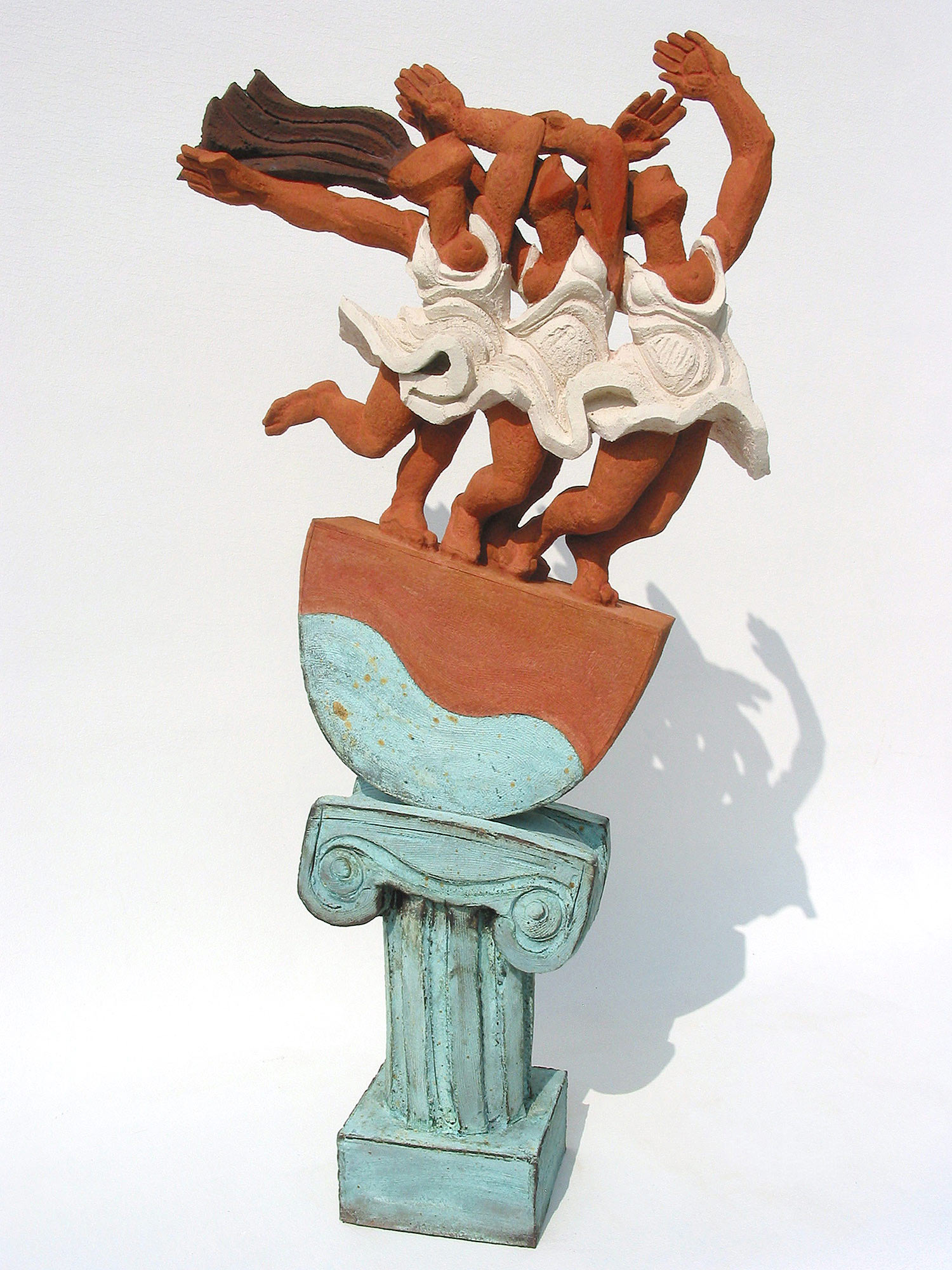 Siren Song ©
91 cm high x 46 cm wide
Unique
The classical call of temptation in Marilyn Monroe skirts. This piece is bathed in the warm sun of the Mediterranean and references the neoclassical paintings of 'The Bathers' or 'Women Running on the Beach' by Pablo Picasso.
Siren Song II ©
89.5 cm high x 110 cm wide
Unique
In 2012, I revisited this theme with the troubles of Greece and the shaky world order in mind. They could equally be the Sabine women.